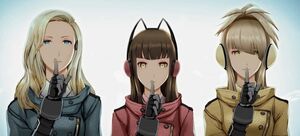 Contribution Girls (貢献Girls) is a unit of the Propaganda Idols group consisting of three female Accessories.
Connie (コニー): The female in red. She is voiced by Momo Asakura.
Opti (オプティ): The female in green. She is voiced by Sora Amamiya.
Panna (パンナ): The female in yellow. She is voiced by Shiina Natsukawa.
The voice actors of the three members are the same as the ones who voice Ann, Shizuka, and Marie in the game. Additionally, each of the members bear a strong resemblance to their corresponding characters.
Their names combined are a play on the word Panopticon.
Ad blocker interference detected!
Wikia is a free-to-use site that makes money from advertising. We have a modified experience for viewers using ad blockers

Wikia is not accessible if you've made further modifications. Remove the custom ad blocker rule(s) and the page will load as expected.