CP2-4 Patriot: Liquidation is an operation under Level 2 CODE Clearance. The location is Citizen's Promenade (Retribution). This operation also serves as the exam for CODE 3.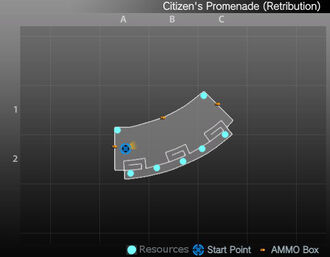 Briefing
Edit
"Uh-oh! Retribution! That's the last thing we need! Well, I know I can rely on you to deal with that nasty old Ramosa-class Abductor. Don't go getting yourself hurt now, will you? For the Greater Good!"
—Agent Felicia Boulanger #g
Basic Information
Edit
Difficulty: 3/8
Objective: Retribution event in progress. Engage forces from On HIgh and eliminate Ramosa-class Abductor. Expect heavy resistance
Sustainability: 5
Time Allotted: 30:00
Sentence Reduction: 360 Years
Rank 6: Winged Exoskeleton: T-Type I x1
Rank 5: Exhaust Manifold: T-Type I x1
Rank 4: Will'O Fluid: T-Type I x1
Rank 3: Ion-Conducting Ceramic x1
Rank 2: Will'O Actuator x1
Rank 1: Will'O Conducting Pipe x2
Special Reward: EZ Katze Kralle I x1
Special Condition: No sustainability lost.
Predicted Field Resources
Edit
Broken Pump
Damaged Flywheel
Ruined Gearbox
Ruined Cable: Ultra-Low Quality
Spoiled Electroviscous Fluid: Ultra-Low Purity
Cuprite
Limestone
Indium Phosphide
Selenium
Will'O-Inducting Carbon Fiber
Will'O-Inducting Pipe
Will'O Sap
Will'O Transistor
Will'O Thyristor
Will'O Capacitor
Will'O Exhaust
Will'O Actuator
Will'O Fluid: Ultra-Low Purity
Ion-Conducting Ceramic
Ion-Conducting Film: Ultra-Low Strength
Walkthrough
Edit
You begin this operation on the west end of this sector. One Ramosa is present on the east end of this sector. Defeat the Ramosa to complete the operation.
Ad blocker interference detected!
Wikia is a free-to-use site that makes money from advertising. We have a modified experience for viewers using ad blockers

Wikia is not accessible if you've made further modifications. Remove the custom ad blocker rule(s) and the page will load as expected.