DO: CT6-6: Liquidation 
is an operation under Level 6 CODE Clearance. The location is Abandoned City Sector 1 (Night).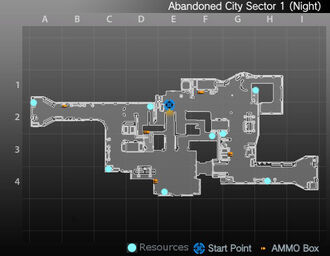 Briefing
Edit
"Houraian forces have control of 3 Abductors from On High. Destroy them. Exercise particular caution in the vicinity of Ramosa-class Abductors. Participation in this operation will be viewed favorably by the OPS."
—Department of Volunteer Management
Basic Information
Edit
Difficulty: 7/8
Objective: Destroy 3 Houraian Special T-Types. Engagement of other forces not mandatory. Night mission. Operation optional
Sustainability: 5
Time Allotted: 45:00
Sentence Reduction: 540 Years
Rank 6: Damper: T-Type (Medium Power) x1
Rank 5: Headgear: T-Type (Medium Hardness) x1
Rank 4: Comp. Sensor: T-Type (Low Sensitivity) x1
Rank 3: Will'O Fiber T-Type (Low Density) x1
Rank 2: Ion-Conducting Film: Low Strength x2
Rank 1: Ion-Conducting Gel x2
Special Reward: CNT Reinforcement: Medium Hardness x3
Special Condition: Minimal Accessory downtime.
Enemies
Special T-Type: Boundless Void
Marksman Type Mk 3
Carrier Type Mk 3
Predicted Field Resources
Edit
Spent Shell Casing
Broken Pump
Damaged Flywheel
Broken Gyroscope
Ruined Gearbox
Damaged Carbon Structure
Ruined Cable: Low Quality
Electromagnetic Will'O Valve
Will'O Sap
Will'O Capacitor
Ion-Conducting Gel
Ion-Conducting Film: High Strength
Ion-Conducting Film: Medium Strength
Ion-Conducting Film: Low Strength
Raw Graphite: Medium Purity
Raw Graphite: Low Purity
Raw Graphite: Ultra-Low Purity
Processed Graphite: Ultra-Low Purity
Diamond-Like Carbon: Ultra-Low Hardness
Ruined CNT Circuit: Ultra-Low Complexity
CNT Reinforcement: Low Hardness
CNT Reinforcement: Ultra-Low Hardness
Walkthrough
Edit
You begin this operation on the border of E1 and E2. One low-level Special T-Type: Boundless Void is present in E4, along with two Carrier Type Mk 3s. The Carrier Type Mk 3s will respawn infinitely.
After the first Special T-Type: Boundless Void is destroyed, Two medium-level Special T-Type: Boundless Voids will appear, one in G1, and another in I4. Two Marksman Type Mk 3s will also appear during this wave. Destroy both Special T-Types to complete the operation.
Strategy / Tactics
Edit
Note: This is not required to do, but a suggestion to keep the difficulty at a moderate level.
During the second wave, the second T-Type II spawning at I4 can occasionally join the battle, if you fight the T-Type II at G1. This will increase the difficulty drastically. Lure the T-Type at G1 to you by standing at E1 and shooting at him for several headshots. He should then charge into your location, so be careful. He may even try to zap you, just hide behind the corner.
Fighting at E1 can be a little difficult due to the terrain and the slope, so use it to your advantage. Do not let your teammates get spotted by the second one. You can command your team to stand around before you lure the first T-Type. Remember to command them again, as soon the T-Type was lured away from his spawn.
Detailed Enemyroster
Edit
Wave 1: 1 x Special T-Type: Boundless Void (T-Type I)
Wave 2: 2 x Special T-Type: Boundless Void (T-Type II)
Ad blocker interference detected!
Wikia is a free-to-use site that makes money from advertising. We have a modified experience for viewers using ad blockers

Wikia is not accessible if you've made further modifications. Remove the custom ad blocker rule(s) and the page will load as expected.